Workwear Toronto is a custom apparel shop located in Toronto that provides businesses with customized uniforms and branded apparel. Riverdale Hospitality is a valet parking service in Toronto that offers professional and reliable parking services for events and establishments.
The project involved the custom branding of six soft-shell custom-branded jackets for Riverdale Hospitality, with the client requesting their logo to be heat pressed onto the jackets using reflective vinyl. Workwear Toronto worked with the client to determine the location of the branding on the jackets and ensured that the final product met the client's specifications.
Branded apparel is important for businesses as it serves as a visual representation of their brand and can help create a professional image. Customized apparel can also create a sense of unity and belonging among employees, leading to improved morale and productivity. Additionally, branded apparel can act as a form of advertising, helping to increase brand awareness and recognition. Overall, branded apparel can be an effective tool for businesses to enhance their brand identity and visibility.
Initial Consultation and Design
Workwear Toronto's initial consultation with Riverdale Hospitality involved a meeting between the two parties to discuss the client's branding needs and preferences. During this meeting, Workwear Toronto gathered information about the client's brand identity, target audience, and the purpose of the customized jackets.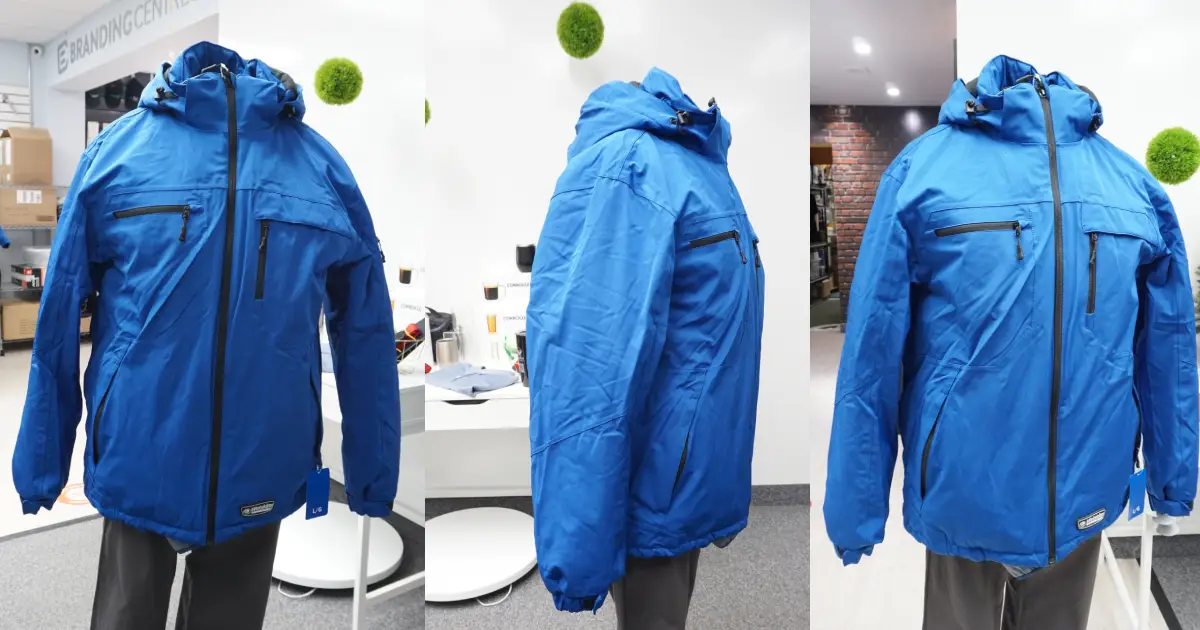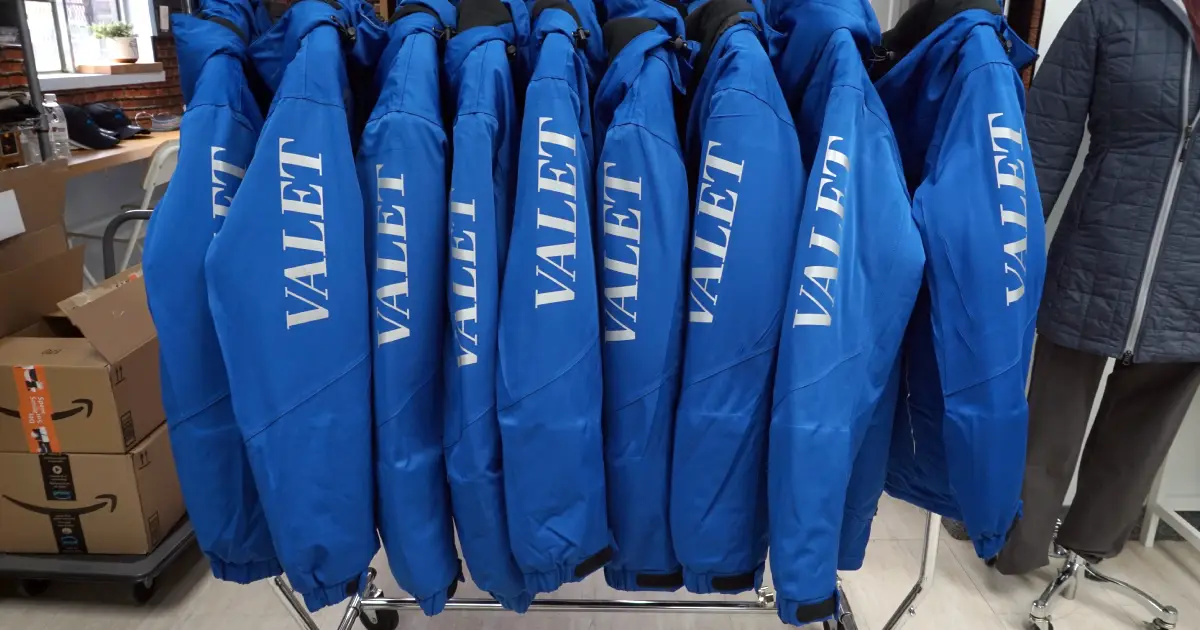 Workwear Toronto and Riverdale Hospitality then discussed various design and branding options, taking into consideration factors such as the client's preferred colours, logo, and overall aesthetic. Workwear Toronto provided suggestions and recommendations to ensure that the final product would effectively represent the client's brand and meet their specific needs.
After the design was finalized, Workwear Toronto and Riverdale Hospitality chose to use reflective vinyl for the branding on the soft-shell jackets. Reflective vinyl is a durable and long-lasting material that is perfect for use on outdoor apparel, such as jackets and provides increased visibility in low-light conditions, making it a safe option for Riverdale Hospitality's employees who work in parking areas.
Finally, Workwear Toronto and Riverdale Hospitality determined the location of the branding on the jackets. The client requested their logo to be placed in three different locations on each jacket, and Workwear Toronto worked closely with the client to ensure that the placement of the branding would effectively showcase the client's logo and meet their branding objectives.
Production Process
Once the design was finalized and the location of the branding was determined, Workwear Toronto began preparing the jackets for branding. This involved cleaning and flattening the jackets to ensure a smooth surface for the branding process. Any wrinkles or debris on the jackets were removed to prevent any distortion or blemishes on the final product.
Workwear Toronto then used a heat press to apply the reflective vinyl branding onto the jackets. Heat pressing involves using a combination of heat and pressure to transfer the vinyl design onto the fabric. This method ensures that the branding is securely adhered to the jacket and will not peel or fade easily. Workwear Toronto carefully monitored the heat and pressure applied to each jacket to ensure consistency and accuracy in the branding process.
After the branding was applied to the jackets, Workwear Toronto conducted a quality control check to ensure that each jacket met their high standards. This involved inspecting each jacket for any errors or imperfections, such as misalignment or incomplete branding. Any jackets that did not meet the quality control standards were corrected or replaced to ensure that the client received a flawless final product.
Delivery and Feedback
After the quality control check, Workwear Toronto delivered the custom-branded jackets to Riverdale Hospitality at their desired location. The delivery process was coordinated with the client to ensure a smooth and timely delivery.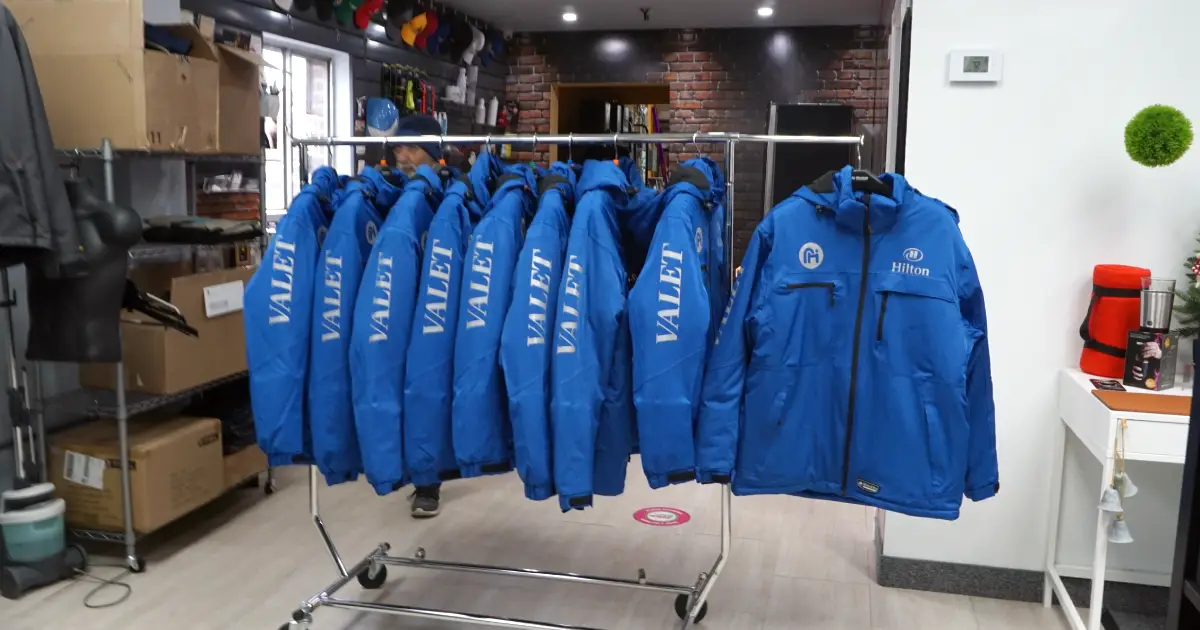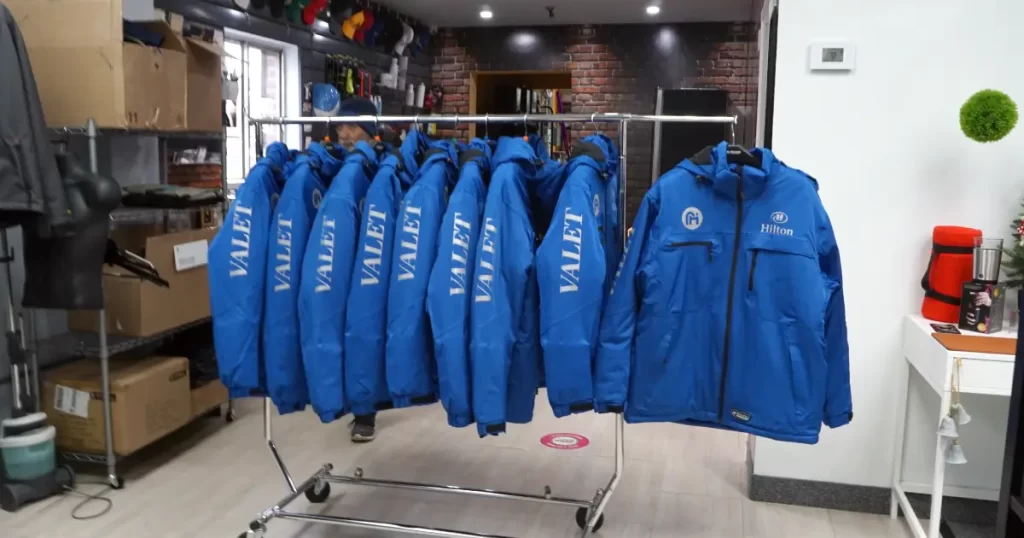 Upon delivery, Riverdale Hospitality provided positive feedback on the branded jackets. The client was impressed with the quality of the custom-branded jackets. They appreciated the attention to detail and the clear communication throughout the project.
The custom-branded jackets had a positive impact on Riverdale Hospitality's business. The jackets not only provide a professional and cohesive look for their valet attendants but also served as a form of advertising for the business. The reflective vinyl branding on the jackets made the employees more visible to customers, especially during the evening and nighttime events, which enhanced the company's safety measures. The jackets also helped to increase brand recognition and awareness among potential customers who saw the branded jackets at events or while valet attendants were working. Overall, the custom-branded jackets served as a valuable investment for Riverdale Hospitality, enhancing their brand image and visibility while providing practical benefits for their employees.
Conclusion
In conclusion, Workwear Toronto successfully provided Riverdale Hospitality with custom-branded jackets. The project involved an initial consultation and design phase, a production process, and a delivery and feedback phase. Workwear Toronto worked closely with the client to ensure that the final product met their specific branding needs and that the client was satisfied with the final product.
The project highlighted the importance of branded apparel for businesses. Custom-branded apparel such as jackets, t-shirts, and hats can serve as a valuable tool for promoting a business's brand identity and increasing brand recognition. Branded apparel not only provides a cohesive and professional look for employees but also serves as a form of advertising for the business. Additionally, branded apparel can enhance safety measures by making employees more visible to customers.
Workwear Toronto looks forward to collaborating with Riverdale Hospitality on future projects. Workwear Toronto offers a range of custom apparel options, including jackets, hats, t-shirts, and more, to help businesses effectively promote their brand identity. Workwear Toronto values clear communication, attention to detail, and exceptional customer service to ensure that each project meets their clients' specific needs and exceeds their expectations.
Get in touch
If you are a business looking to enhance your brand image and promote your business, consider investing in custom-branded jackets with Workwear Toronto. Our team of experts will work closely with you to design and produce high-quality apparel that meets your specific branding needs. Whether you need jackets, t-shirts, hats, or other custom apparel, we are here to help you effectively promote your brand.
B. To learn more about our custom branding services or to get started on your own project, please contact us at:
We look forward to hearing from you and helping you take your business to the next level with custom-branded apparel!